Please join us for the FAREWELL PERFORMANCE of Jank Tones, a blisteringly high-energy Power Trio comprised of seasoned musicians originating in the Sierra Foothills, combines their profound love for the crowd, an obsession for music, and a passion for improvisation, musicianship, showmanship and creativity to deliver unforgettable Soulful, Poppy, Funky and Bluesy performances and unparalleled dance parties time and again.
Stompbox has been performing together since August of 2016. This 5 piece band packs a punch with a strong rhythm section that lays down the beat, a lead guitarist that plays all those great solos that the everyone came to hear and a powerhouse vocalist that loves to interact with the crowd. They perform songs by artists that include Journey, The Pretenders, Chris Stapleton, Van Morrison, The Black Crowes, Susan Tedeschi, Robert Palmer, Eric Clapton, Peter Frampton and Elle King. The Stompbox Band dedicate themselves to continually learning new cover tunes to keep their performances fresh and exciting. This band loves to have fun and play a variety of covers that keep the dancers on their feet!
Founded in 1996, The Fabulous Off Brothers is made up of members, Frank Tonetti,
Michael Dias, Jim Hampton and Ed Calsadathese.  Come see these local legends from Angels Camp who will be Rockin' for your listening pleasure!
Born out of love for jamming at the Strawberry Music Festival, and the love of fun, the Jimblyleg Band always strive for three things…..Real….Fun….Bluegrass. Hailing from both sides of Washington St. in Sonora, we keep connected by playing and eating at each others houses every week, hopefully with funky produce from the Blue Oak Farm.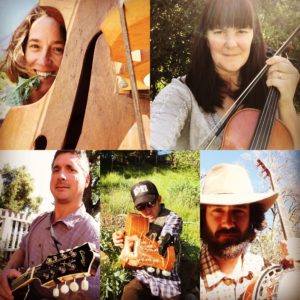 Columbia Soul are a 4 piece  band based out of Columbia, CA. They play their own brand of Country Soul, Funk Jazz, & Feel Good Blues.